Mentioned I am in a Facebook group doing a photo a day - had the prompt "cluttered" so I took this pic of my head .... I am sure my brain is so cluttered it could do with a good spring clean ..... lol
Tomorrow's prompt is "dangerous" .... mmmm - not sure what to do for that one.
These are the prompts for September - some tricky ones in there.

At last I have bought a new computer - my old computer was so so sick; in fact I haven't been game enough to turn it off for the last 2 or 3 months because I didn't know if I would get it to turn back on.

We had our power off a few Friday's ago from 8-4 and it took me 3/4 hour to get the damn thing to start and actually stay on.

Anyway I finally realised that I would just have to get another one and be done with.
So for the last 3 days I have been loading all my 'stuff' onto the new one. I have an small external drive that I keep my music and ebooks on and I did a back up of all my photographs but I ran out of space. So when I got the new computer I bought another external drive - a 2 tb - so that should keep me out of trouble for a while.

Anyway, what did I buy? Did lots of research but all the while remembering that when you buy a new computer it is old hat as soon as you walk out the door.

I knew I wanted a reasonable sized HDD and a 15" screen - at least 8 mgs RAM - and a DVD drive; the rest was cosmetic really.

So ended up with an Asus - nice 15.5" screen, 12mgs ram, 1tb HDD, Windows 8 - happy little camper now.

I can't believe the amount of 'stuff' I had on my old one and on the ex.drive - over 19 gbs of ebooks, almost 60gbs of music (and that was after I had lost over 70gbs :( when my old machine crashed early in the year).

Been slowly trying to remember what I had and copy them back on.

It's kind of like trying to remember books that you read years ago and liked and want to read again - you can remember the story but not the name or the author.

I just reading a series of fiction books - serial killers - by John Lutz; he wrote Single White Female, anyway, I finished his Quinn series and now searching around for another series to read.

I remember reading the Nero Wolfe books years ago and Ngiao Marsh Inspector West books - loved them - so now trying to find a new author.

I found Liz Gardner so am reading her first book in a series "Alone"

Any suggestions would be greatly appreciated - I like Jeffrey Deavers, Karen Slaughter, Kathy Reichs type serial killers ....lol. Like adventure books too like Matthew Reilly, Clive Cussler, James Rollins, etc. And of course Tolkien - can't get enough - think last count was 101 for The Lord of the Rings .... lol.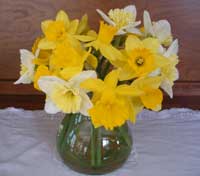 .... Oh and if you think of any clever ideas for the September prompts email me them too (email addy is top right) ..... rotfl.

I love fresh flowers but they can be very expensive; anyway when I was shopping last week at the supermarket they had bunches of daffodils for charity so I bought some.

Don't know about you but I hate those mixed bunches of flowers; I love all the same variety in a vase .... lol. Love lovely yellow roses in a bunch or sweet violets or poppies. Hell, if someone was buying them for me I wouldn't care if they were plain old white daisies or even weeds .... rotfl.
which reminds me - my late husband of 33 years ( a policeman) never bought me flowers (in fact I have never had a male in my life who did .... lol)
.... anyway, one day he actually came home with a large bunch of beautiful roses and carnations and I was amazed as he had never done that before (and never again ...lol).

I got all excited until he told me that he and another officer had gone to a disturbance at the local cemetery and the guard there had given them to him as a thank you .....!!!!!!!

So the only way I ever got flowers was to either grow them or buy them for myself - and it hasn't changed .... I still buy them for myself (not that I have a male in my life to buy them) given up on growing them because I am the world's worst gardener.