Had an amazing time on Saturday at the Brett Whiteley studio!
I have to say as one of the 9 people offered the Masterclass I felt very honoured and awed to be working in his studio. The tutor was Jenny Hall and she was fabulous. Gave some really good tips and advice and was not harsh in her critique.
I was over the moon as on a few of mine she told me I was on the right track; she even said she loved the movement and how I portrayed the form .... so chuffed!!! It is really hard to show your skill or lack of in just a few minutes. I am a water colourist first and foremost, so I build up layer by layer ... it is hard to portray something in such a short time .... rotfl.
95% of the poses were 1, 2 or 3 minute sketches - used to those but she forced us out of our comfort zone a lot; at times we had to only look at the model and sketch .... lol.
Used charcoal mainly, and white pastel - a couple of times we had to sketch the background shape with shoe cleaner .... rotfl.
I came home with 15 pages of sketches, the ones on the right are a few examples of the one minute and the 3 minute poses.
I only knew two of the other participants so it was a bit nerve wracking meeting 7 new people plus the tutor, model and the gallery co-ordinator but I got through it ... lol.
Now it is time to put into use all those things I have learnt over the recent Masterclasses - I have been toying with doing a life sized pose for a while now and think it is time to start planning it.
Not sure whether to do it in charcoal (as some of my other nude poses have been) or watercolour. It will be reclining nude, still deciding whether to put my head in it or just the torso ... maybe I should be brave and tackle the portrait aspect of the composition ... lol.
Have to get myself a larger piece of ply - I attach my paper to 6mm ply, gives a firm surface to work on without being too thick. For this piece I will need one 2m x 1.2m so will need to order from the local ply specialist and arrange with one of my son's to pick it up for me - won't fit in my RAV, already measured it and I can only fit a piece 1.6 x 80 which is too small for what I am planning.
I will leave you with some of Brett's works of nudes - love the sparseness of line in the first few and adore the Nude Torso at the end, the movement ....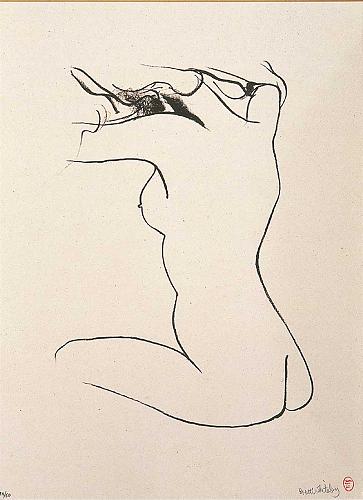 Undressing 1973
Towards Sculpture 8 1977
Toward Sculpture 6 1977
Back 2 1981
Toward Sculpture 2 1977
Nude Torso 1976