Well, the panic and busyness of the last few weeks is over. The wedding was perfect and now I am back home.
Check out the bird!!!
The kids could not have chosen a more perfect day - the weather was beautiful, the setting glorious and the food delicious. I am looking forward to seeing some pictures - have a couple of my son and new daughter but nothing with me in yet.
AS mentioned the food was lovely as was the venue. The restaurant was lovely - set right on the water literally.
The view from the balcony was perfect - across the water to Fraser Island. The evening was all you could hope for and if people didn't enjoy themselves they obviously wouldn't be happy with anything ... lol.
The kids even arranged a lolly table! Supposedly for the young children but it seemed to me that the grown ups were lining up just as much if not more often than the kids!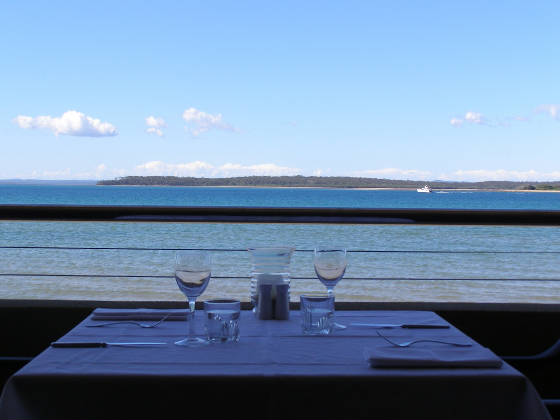 I stayed at the Mantra - tower one - and what a great view; all those lovely boats in the marina!
The hotel was lovely set around swimming pools. I was on the fourth floor but loved the fact that in the rooms on the 1st you could just dive straight in from your balcony!
Fozzie was not at all impressed with his holiday at the kennel. I landed at 2.15 on Sunday afternoon so decided I would drive out to Vineyard on the way home and pick him up rather than wait until Monday morning.
He was so happy to see me - he had a lovely bath and was all fluffy (for a few hours anyway ... lol). All the way home he kept trying to sit on my lap; bad enough with a little dog but with a big one and trying to drive .... rotfl. For the first week home he has not left my side but hopefully he settles down again and realises I am not going anywhere.
The cats, on the other hand, were fine. Spotty raced out the door as soon as I got home and Calico was curled up in the cat tree and gave me a quick look then went back to sleep. Mr Spot soon rushed back in when he heard me opening a can ... lol.
Booked in for my workshop at the
Brett Whiteley
studio in September - we have a two hour life drawing session with Jenny Hall; spend some time at the Studio looking through the exhibits and catch a few of the local galleries before we come home.
I thoroughly enjoy my two charcoal master classes - both were very different but I found both very interesting. I think the one with Michael Herron was my preferred one as it was working with nudes in a dynamic way. I think I did about 20 or 25 A2 sized sketches on the day! Most were 1 or 2 minute sketches so you have to get down the idea very quickly.
With Catherine O'Donnell it was more about perspective and chiaroscuro (using light and shade dramatically) - we only worked on one piece for this, a very large sketch (about 60cm x 95cm) using boxes as a subject but still didn't complete the work. It was so big and the heavy use of charcoal took some time to lay down; still I managed to get a reasonable amount of it finished.
I really love my Galaxy phone - I was reluctant to get a smart phone initially, figured I wouldn't use all the gadgets but boy have I changed my opinions...lol!
I can get my emails or send one while I am out if needed; of course I can surf the 'net whenever I feel like it. The camera is great, as is the video camera. Like the fact I can even make video calls.
Have assigned different ring tones for everyone so I don't even have to look at caller ID when someone rings. Love the calendar/planner - now I know exactly what I am doing if I don;t have my tablet with me. The good thing is I have it linked to my google account so it automatically updates my tablet.
Still haven't played with all its features but I am having fun.