Frustrated .... (in more ways than one .... lol)
My elder son is getting married in August, in Queensland and I am desperately trying to find a top to complete my outfit with no success at all.
I have bought a beautiful pair of pants & matching jacket but need a top to go underneath. Do you think I can find what I want? NO!!
I am searching for a red top - yes me who only ever wears purple & black is searching for red!!
Can find heaps but the fabric is wrong they just are not dressy - formal and even if I beaded them they would still look too casual.
I am starting to think I may have to either make it myself or get it made - time is running out and so I have given myself this week to find it or else look to making.
Everything else is organised for the trip - hotel, flights, car parking, pets boarded .... all booked. Really looking forward to going. My eldest grand daughter (Miss 2 1/2) will be one of the flower girls - her second trip down the aisle. My handsome grand son was to be groomsman but unfortunately he cannot attend - I am so very very sad that he won't be there to see his dad married; his dad is devastated but unfortunately it is out of his hands.
Lovely silver AP ones
Had my two yearly eye test yesterday and as my 'script had changed I had to ordered some new glasses - they were on special and I got two pairs for less than the cost of the single pair from two years ago!!
And yes I needed another purple pair
Alex Perry designed ones .... ooh la la!!
Old Bvlgari ones
My last pair were Bvlgari ones - and they cost me a fortune! This time I decided I would not spent as much and went to a different place to buy them.
I could have had two pairs of designer ones for $199 including the lenses but the Alex Perry ones I liked were 2 for $350 but with my health fund rebate I only have to pay $170 - considering the Bvlgari ones were over $800 I am one happy lady!!
Woman Under Shower - Whiteley
Was talking with the guy who organises our models about next term for the Life Studies drawing and he said he is trying to arrange a visit to the
Brett Whiteley studio
with a view to spending the day there sketching nudes with a model AND with a tutor for feedback and suggestions!
Now that sounds exciting to someone who loves drawing and painting nudes ... lol.
Although I am very much a traditional artist - realism - I do love some of the modern abstract artists. Although my mind is very unorganised and cluttered and I live in organised chaos; I just never seem to be able to paint abstract works despite trying several times.
The other cause of my frustration is my online dating experiences - I do get lots of contact requests (yesterday I clocked up a record - for me - 19 requests in one day) - but the majority are still made up of married men and boys under 40 ( average 22). This is despite having written in large letters on my profile no married men or men under 50.
I have come to the conclusion that most men can't read .... lol.
The remainder fall into the right age group but ..... a lot are under 5'6" (my profile states I am 5'9" and I looking for tall man) and the rest seem to think that the obligatory coffee date is a waste of time and we should cut to the chase and just have sex. They tell me that I am obviously a sexual & sensual woman and that they would love to make love to me .... lol.
Now I don't agree in jumping into bed immediately for several reasons -
I would like to be able to chat to someone first and see if there is any chemistry;

Security - why on earth would I either go to some strange man's home or allow a stranger into mine?

I am so over that .... lol;

I see their requests as just wanting casual sex or a one nighter - I may be doing them an injustice but it seems to me that they have no intention of doing anything else but have sex with no strings attached.
I have spoken with a few in the last few weeks - against my better judgement I have accepted contact requests from ones without photos. In two cases I managed to get them to email me a picture.
Okay, it is very superficial but the truth is we are very much visual people - if there is no little spark of interest when you look at a picture it is highly unlikely that it will be there in the flesh so to speak. So unfortunately when I received the pictures I kinda cringed .... not nice I know but I did, and I am honest enough to admit it.
I have found that the men who don't post pics are either - married or um .... shall we say 'not photogenic' or have self esteem issues .... lol.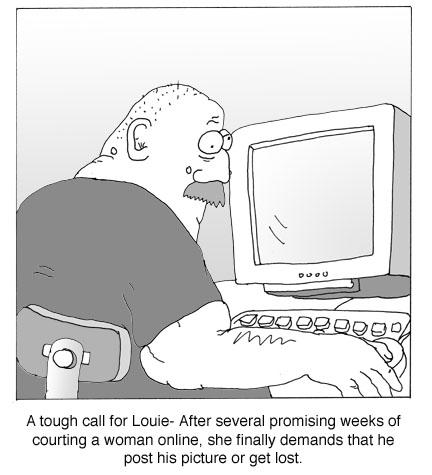 Some may say they don't know how to post a photo but they can email one - let's face to post a pic on a site is as easy as writing the profile so that's not an excuse. Others say they haven't had time to take one but will send one if you give your mobile number (uh uh no way).
Yet more say that they don't post a pic because only shallow people judge on photos - and then they ask you if they can see your locked photos!! Now that is one double standard ... lol.
Of course there are the ones who do post a photo but the pic is at least 10 years old or it is a photo of someone 'handsome' that they downloaded from the Internet.
So now I have three left on my contact list - all with no pic. One I received a photo in an email this morning and it did nothing for me . The gent said he is 55 and athletic & he had taken the photo on the weekend - the photo looked like a chap in his late 60s, carrying a lot of weight. He is probably a nice guy but I just couldn't get excited about him.
Of the remainder - one is on holidays in Turkey, he writes very interesting emails and has my weird sense of humour but no photo; the other also has no photo and I am rather wary about him. He is a new contact so have only had his initial request but it has very sexual undertones to it so I have a sneaking suspicion that he is going to one of the 'lets have sex then if I want to do it again I may buy you a coffee' types.